Calificación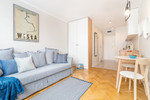 The apartment location is excellent! Communicating with the owner was easy, and their supports works perfectly. However flat was small than it was shown in the pictures. It is a nice place for short-term stayings, like 1-3 days. But don't expect much. Nijat S.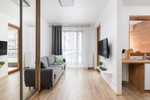 Top location!
The apartment can use some light renovations (bathroom specifically).


Kateryna D.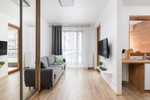 The apartment is located in a perfect location - the middle of the business district (I call it little Manhattan).
Metro is very close. Starbucks is 50 meters away :)
Vecindario
You will love living here.

Kateryna D.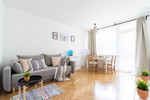 I didn't realize that there is no ELEVATOR. I arrived with >50kg of luggage and no elevator. Flatio slyly hides that tidbit away, which you may not realize if you are new to the user interface.....scrap that. No matter what, that elevator information should always be shown! That is beyond accessibility. Some things you cannot lift.

Obviously "no elevator" impacts the market pricing tremendously.

My arrival was not in a good light. The checking was flawless but I soon faced 4 unlabeled keys of the same shape that all fit in every lock.
Then I realizing that it is a subapartment labeled "B" with a tiny anteroom and a light that switches of after 3 seconds until you move around again. So another set of entrance doors to find a key for. That is no joke. Minutes went by.
The sofa-bed as anyone who ever bought or used a sofa-bed will know, is a sofa and not a bed made for sleeping. They didn't provide a cushioning sleeping-cover. A 40 Eur investment every 2 years vs. a client 365days with bad sleep and productivity. Yeah. That makes economic sense!


And the stools are impossible to sit for much longer than a dinner.
There is no washing machine but a laundromat nearby. So no complaint here except than a washing machine in a tiny apartment is more important than a dishwasher.

Having survived the first day, I had experienced one of the best and coziest apartments I have seen. The label "rent like home" is no joke and all of the aforementioned things will eventually fade away.

And the neighborhood is fantastic - but that is true for pretty much everywhere in Warsaw.

|t is central enough, but then again that is information that you already had before you press the book-button.

Lorenz S.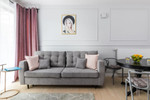 Elegance and style in the apartment close to Arkad Desactivado
Calificado en: 14.06.2022 Duración de la estancia: 1 mes
Do not waste your time on this landlord and this apartment! The apartment was dirty, old, the noises from neighbors u will here every time and from in every corner. So noisy, so old. Total disappointment. Also, the landlord in the day of arrival didn't even write any info about how r we gonna get to the apartment and when we were checking out, again, no one even told us at what time. Do not take this apartment and do not take any apartments from this landlord!!! Save your money and nerve's.
Vecindario
The shopping mall in the close distance is the only plus of this neighborhood

Nataliia K.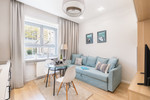 8

Tetiana V.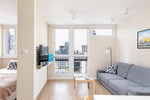 Location of the apartment is perfect - at the heart of the city centre, close to cozy places and restaurants. The home is clean and tidy. I am so satisfied with my stay!
Vecindario
The neighborhood is safe even in the late evening. The house itself is under security monitoring.
Lugares cercanos recomendados
For breakfast - Krańcówka or dobro&dobro cafe. Browary Warszawskie is a perfect place to visit in the evening.

Viktoriia D.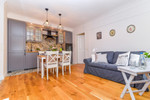 Good flat

Yuliia L.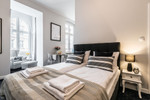 Checkered - studio in Aparthotel in the Old Town Desactivado
Calificado en: 27.02.2022 Duración de la estancia: 5 meses
very clean, cosy and central

Nicole B.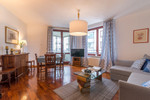 Spacious flat for a family with bathtub Desactivado
Calificado en: 06.12.2021 Duración de la estancia: 2 meses
Very nice apartment with a lot of space in a very accessible location. However, the bed in one of the rooms was unstable, and I had to fix it myself. Other than that, it was a very pleasant experience.
Vecindario
Very close to Westield Arkadia and Centrum. Single tram in either direction

Daniel A.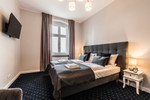 Cozy and airy room in Serenity Aparthotel Desactivado
Calificado en: 01.12.2021 Duración de la estancia: 1 mes
Great apartment close to the center. Everything exactly as described. Daniel M.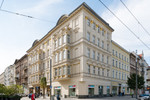 Cozy studio in Serenity Aparthotel in the Old Town Desactivado
Calificado en: 02.11.2021 Duración de la estancia: 1 mes
Pokój był bardzo ładny, świetnie wyposażony, czysty. Znajdowała się tam lodówka, płyta indukcyjna, naczynia, garnki, zmywarka. Obsługa była pomocna, a sam pobyt przebiegł bezproblemowo.
Vecindario
Centrum, wszędzie blisko, pełno sklepów i restauracji. Kamila P.