Calificación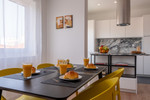 New apartments with a convenient location, good-quality furniture, all amenities in the kitchen and bathroom and fast internet.

We stayed with my wife and 2 year old daughter. The house has good sound insulation, new and comfortable mattresses on the large bed and in the small room. Well organized space in the kitchen and everything you need for cooking. There is a small but modern elevator, where we and our folding, but rather large stroller fit easily. A high-quality air conditioner with a heating function.

I would definitely recommend this apartment and would love to come back again.
Vecindario
Easy to get to the train station. And the beach is only 10 minutes and 3 euros by taxi and there are also bus stops nearby. Large grocery stores 10 minutes walk. And a wide beautiful promenade 100 meters away.
Lugares cercanos recomendados
Pirate ship "Santa Bernarda" with an excursion along the coast to the grottoes is a great way to spend a day with a child and is close to the appartment.

Vladislav K.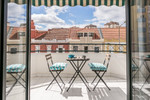 Greta Location! Near Ocean. Beautiful balcony and very peaceful and quit place I highly recommend!

Joanna N.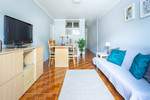 1Bdr Apt 5 min from River & Santa Apolónia station Desactivado
Calificado en: 14.04.2022 Duración de la estancia: 3 meses
Well supplied with the basics.
Vecindario
A demographic mix of friendly, mostly quiet people.

Brian M.

This studio is right in the center of everything! It's the perfect crash pad after a long night out in Bairro Alto.
Vecindario
Tons of bars with bumping music every day of the week.

Jean L.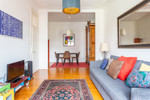 This apartment is in such an excellent location, it's really a shame the landlords do not act ethically and also a shame they don't do some very simple things to make the apartment more livable.
Very shortly after signing the contract with Flatio the landlords contacted me and asked for a deposit and cleaning fees, both of which were specifically not included in the contract. They pushed, but finally backed down after Flatio talked to them.
When the day of departure approached, they asked me what time I was leaving, and when I said around 16:00 (contract states you have the apartment until 17:00), they claimed check out was 11:00, and they had someone else moving in at 16:00. Completely irresponsible and unethical to promise someone a checkin before the previous tenant's contract has expired. They once again backed down when I pointed this out.
If you still want to stay here, note there is absolutely no closet space, no wardrobes and no chest of drawers. Apparently they expect people to live out of their suitcases. The apartment is spacious, and each bedroom could have either a wardrobe or chest of drawers if they would just spend a few euros.
Also note the shower does not work the way it should, and they were informed of this by a maintenance person three weeks ago and as of the time of my leaving had not done anything about it.
Despite the excellent location I would not deal with these people again.
Vecindario
Even if you have no interest in visiting the very high end shops of the Avenida da Liberdade, this is still a really great location because it is 20-25 walk to so many other great neighborhoods in Lisbon.
Lugares cercanos recomendados
The Bettina Corallo chocolate shop in Principe Real probably has the best chocolate in Lisbon. The Saturday farmer's market in that neighborhood is also excellent. Both just a 10-15 minute walk.

Richard R.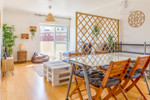 Top host, loved the flexibility and the warmness 👌🙏
Vecindario
well-located flexhub with the most important metrolines 👌
Lugares cercanos recomendados
exploring walks in the direction alameda and roma-areeiro 👏

Bjorn L.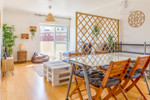 Just go for it! The service has been very good! A couple of things neded to be rearranged in the apartment, but this was done super quick and in the best way. The service was always very helpful. We have nothing to complain. The apartment has a beautiful view on the rio Tejo in the distance. The apartment is nicely styled and a nice place to stay. Thank you to the staff of Lisbeyond that did a great job!
Vecindario
The neighborhood it's ok. It is not central, but very easy by metro to access the center.
Lugares cercanos recomendados
The butcher close up to the roundabout.
Marco F.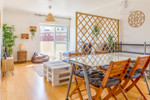 The apartment was very nice. The roof was the best part. Our stay there was really enjoyable. And the landlord was friendly and easy to connect to.
Vecindario
Its very calm, a residential area. Not so many services close by. The supermarket and the closest metro station are about 10 minutes walk. Yet the apartment is worth the walk :)

Leen H.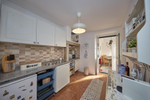 Great location, not so good communication with landlady.
Vecindario
Cosy

Benjamin K.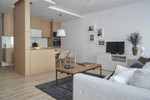 We lived in this apartment from January to the beginning of June and we truly loved our stay! The apartment is nice and modern, equipped with everything you might need. The best feature is the amazing back porch, where you have sun from early morning to around 5 pm.

Estrela is a great neighbourhood with everything you need within walking distance; 15 min walk to Bairro Alto, 10 min to Santos train station, 2 min to the tram stop, 10 min to a big grocery store, and 2 min to the minimercado (small store) on the corner. The beautiful park Jardim da Estrela is also only 2-3 minutes away and you have a nice variety of cafes and restaurants close by. The area felt very safe (it's located right behind the Parliament, The São Bento Palace), and you are surrounded by friendly neighbours.

We had good communication with the hosts, Iris and Maud; they were very responsive and easy to deal with. Would absolutely recommend this apartment and Lisbeyond to others who want to enjoy their stay in Lisbon.

Stine H.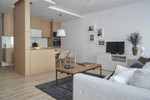 Great and cosy apartment in a great area of Lisbon. Very responsive Landlords. Ivan G.

Maud and his colleagues are nice and reactive, the apartment was fine but just some little things that makes my overall experience 7/10: I had troubles with internet for 2 weeks (not owner's fault), the shower takes super long to empty and you can't use both kitchen heating spots at the same time or the power shut down in all apartment.
And the neighbor just on top of this apartment sometimes plays with his dog with some bouncing ball, wich makes a lot of noise (I tried to talk with him but he won't stop)
Thanks !
Vecindario
Bairro Alto, night life (can't really judge since I was there during pandemic)

Quentin R.